Reading Time:
3
minutes
There is a current wave of migration from Africa to the United Kingdom (UK) in search of care assistant jobs employment. The UK government has made it possible for the health care assistant job sector to employ job seekers for full time work provision and also carter for foreigners work visa. This has resulted in influx of job seekers from different part of Africa and other continents. There are couple of online agencies responsible for recruiting care assistant job seekers and assisting with the entire process. Below are four care assistant job online agency websites.
My care business is a consultancy that focuses on helping fix care business professionally. it is a social care multidisciplinary consultancy that helps the most ambitious care businesses realize their potential whilst defining their future. They do help their clients by forming strategy, marketing, organizing and operating through to digital transformation and mergers and acquisitions. If you are already a care home owner who wants to level up your business, My Care Business is here for you.

Contact Information
My Care Business LTD
Kingdom House, Brunel Road
Newton Abbot, Devon
TQ12 4PB, United Kingdom
Phone: +44 (0) 3302 235 382
Email: hello@mycarebusiness.co.uk
#2 BLUE SAPPHIRE CONSULTANCY LTD
Blue Sapphire Consultancy Ltd is a professional recruitment agency with more than 15 years of industry experience. Their services include professional recruitment and placement agency, they carter for the UK-based clients and candidates as well as within the care industry and medical field and IT professionals from India. They claim to help Care assistant job seekers and Nurses find stable and lucrative employment opportunities in the UK.

Contact Information
Blue Sapphire Consultancy Ltd
Grove House, 8 St Julian's Friars
, Shrewsbury SY1 1XL, United Kingdom
This organization started its journey in 1967, currently they are one of the leading providers of housing & care to older people in Kent. Their services includes caring for older people in the south east, as well as several locations across the county. They also provide exciting job opportunities and claim to be very proud of our staff as they invest in them to succeed.

Contact information
Rapport Housing and Care
The Old Wharf, Station Road, Cuxton, Rochester,
Kent ME2 1AB, United Kingdom
 01634 723007
#4 CARING HOMES
This is a family business, founded by mother and son Helena and Paul Jeffery some years back in 1994. They are focused on assisting residents live life to the fullest by providing an outstanding career at Caring Homes. They train staff and they promise to provide highest standards with the utmost dedication, kindness, and compassion. They are also open to recruiting more staff to join their team.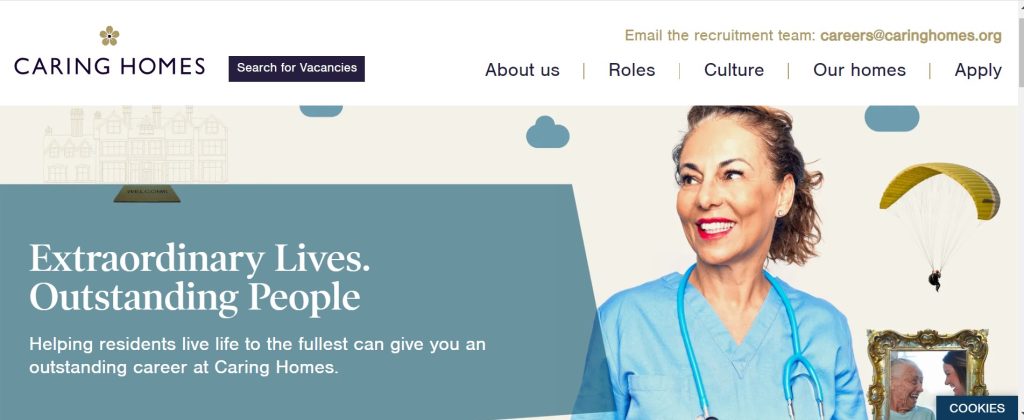 Contact Information
Caring Homes Support Office, Bradbury House, 830 The Crescent,
Colchester, Essex, CO4 9YQ
Call the recruitment team for free 0808 223 5549
Email the recruitment team: careers@caringhomes.org