Reading Time:
4
minutes
Instagram business tools are definitely life saver and something every Instagram business owner should consider having. Instagram is a social medial platform with large amount of users and this fact makes it a great place to market your business and reach potential customers. Instagram business tools have been created to make running a business on Instagram easier than ever and I will be discussing some of those business tools with you. Let's get started!
# 1: INSTAGRAM BUSINESS TOOLS: TRENDHERO
Trendhero is an Instagram business tool that focuses on checking Instagram creators and influencers. They have over 60 million accounts and suggest the right influencers, scan for fake followers and give an insight on the growth of your Instagram followers. There are key features to look out for with trendhero.
KEY FEATURES
-Account and comment analysis
-They analyze your contents and mentions
-Search for influencers: by demographics, engagements, followers and active accounts
-They run a check on influencer's ad post and monitor their stories
-Extra features: Ability to export lists to excel, export PDF reports
#2: INSTAGRAM BUSINESS TOOLS: FOURSIXTY
Foursixty transforms your Instagram gallery and makes it shoppable for your online store. They also have included to their service an Instagram scheduling and publishing tool.
KEY FEATURES
-Email campaign galleries
-Instagram stories and business insight
-Ability to track campaigns and creators
-Access to user generated contents
-Access to user generated contents galleries
-Instagram scheduler
Also, read:7 TOOLS FOR INSTAGRAM GROWTH 2021
#3: INSTAGRAM BUSINESS TOOLS: AGORAPULSE
Agorapulse is very handy tool for Instagram social media management, it is rated number one on capterra and trustradius. They help you take control of you publishing, discover trends for you and give insightful analytics.
KEY FEATURES
-Manage your ad comments
-Help with organizing and publishing your post
– Discovers new feed and new customers
-They monitor your account for you, respond to messages and mentions
-Help with your social media strategy by tracking trends performance and detecting best performing content
#4: INSTAGRAM BUSINESS TOOLS: GLEAM
Gleam is a marketing platform with over 1 million business on the platform, they help with running campaigns that brings about users engagement and promoting your business.
KEY FEATURES
-Social media gallery: They help you build your social media gallery using images from #hashtags and competitors
-Ability to run viral engaging competition
-Capture popups available to grow your email list
Also, read: WAYS TO MONETIZE YOUR CONTENT AND FOLLOWING ON DIFFERENT SOCIAL MEDIA PLATFORM
#5: INSTAGRAM BUSINESS TOOLS: SCOUTSEE
Scoutsee is a platform for influencers and affiliate marketing, they create a vibrant micro influencer community from brand followers and drive sales, and measurable traffic from it. They allow users to create curate products and create shoppable post, share to their Instagram and get paid commissions when purchase is made. This is a cool way to make money from Instagram but currently the app isn't available on google play store or apple device store.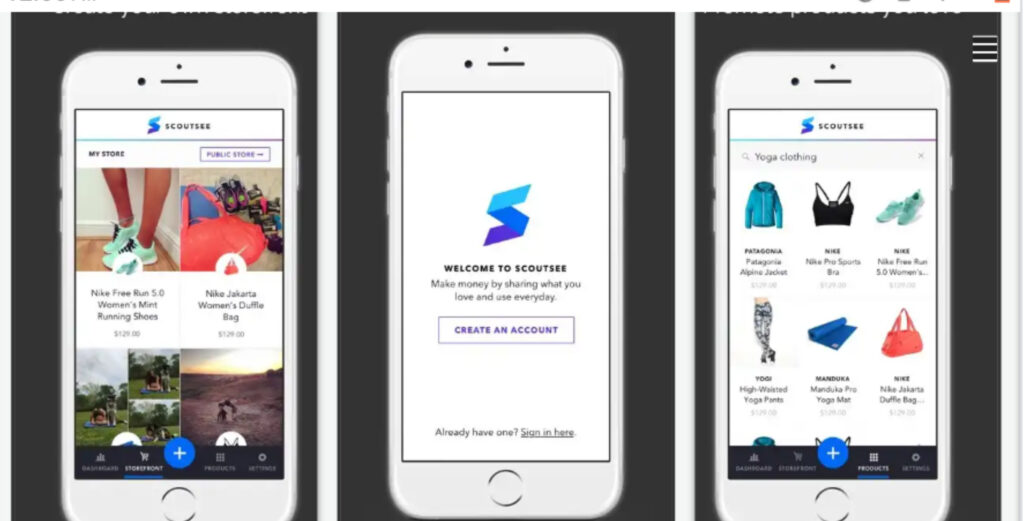 CONCLUSION
Don't let running a business on Instagram drive you nut with much work load, get yourself one or more of the above listed tools and have a less stressful life while you count your money. Having mentioned some business tools required for running your Instagram business, I would suggest you visit each site or app to explore more before making your final decision.