Reading Time:
5
minutes
HSE Training In Port Harcourt, there are so many opportunities for people living in Nigeria and also in Port Harcourt to get trained and acquire skills. You have to always be ready and prepared in your career because you never know when an opportunity might come your way and one approach for getting prepared is getting trained and acquiring necessary and relevant skills.
If you are an individual that is interested in working on construction sites, oil rig sites, and other environments that expose workers to health hazards, then taking up training in HSE is a good step in the right direction. HSE means Health and Safety Environment, this is a term used in different work environments. Employers and organizations are required to provide a safe working environment for workers and the level of safety in a work environment varies across professions.
Having this training puts you ahead of time, and gives you a better opportunity of securing jobs in the fields that requires this training, some employers would train you after you get employed while some employers do require you to have the certification before getting employed.
Certain work environments such as construction sites, Oil rig sites, mechanical engineering sites, manufacturing sites, and chemical engineering site puts workers' health and safety at higher risk due to the high chances of sustaining injuries and getting sick.
In the quest to combat and regulate work environment-related occupational hazards, various countries including Nigeria have set up regulatory bodies to this effect. Laws and regulations have been made, basic requirements for a safe working environment, and training are listed to guide companies and organizations.
Every worker must undergo certain health and safety training amongst others before he or she is allowed to work in an environment. However, should employers fail to comply, they would face the law. The importance of this training can not be over-emphasized, I can remember going for similar training some years back, although mine was healthcare-related.
I was working in a Psychiatry home at that time, and before I even started the work, I had 2 weeks of intense training, I was trained on how to prevent getting strangled, and how to protect myself in the work environment.
This work was dangerous because I was working with people that had mental issues, some were violent and some were self-harming. There were cases where some workers were k!lled by patients at work, putting all these into perspective, the training is for your own good, to protect you from harm and also your co-workers.
The Health and Safety Environment(HSE) training is conducted by HSE professionals and the training is tailored to match the working environment of any given organization. In this article, I will be listing the common health and safety training available in the HSE training programs and companies offering HSE training in Port Harcourt. In addition, I would give insight into the advantages of the HSE training.
The common health and safety training in HSE training programs
Fire safety training,
Industry-specific training
First-aid training
Emergency drills,
Health and Safety (H & S) protocol meets,
Ergonomics training
Equipment training, and a lot more
This training is done based on the specific working environment of a company and its requirements. Some of the training is basic and mandatory in all working environment while some training are restricted to certain work environment.
The burden of HSE training doesn't only lie on the employers but also on the workers. Getting trained is a step forward that requires more steps, as a worker you must learn from the training and practice what was taught. In a bid to make sure that workers are well trained and competent enough, training has exams at the end and certificates are also issued.
Institutions offering HSE training in Port Harcourt
HSETrain International Limited
Novelle Center
Institute of Safety Professionals of Nigeria (ISPON)
Kevron Consulting Limited (KCL)
Industrial Safety Training Centre (ISTC)
Safeguard Resources and Technologies Limited
Globat Oil and Gas Skills
Kivos Health, Safety and Environment (KiHSE)
HSETrain International Limited is a training and consulting service provider that offers HSE training in the Oil and Gas sector. They claim to be registered with this registration number RC 1514909.
They boast of international standard courses offered at their institution which are in accordance with the Known occupational safety organization as such the National Examination Board of Occupational Safety and Health (NEBOSH), UK. Institute of Occupational Safety and Health (IOSH), UK, and Occupational Safety and Health Administration (OSHA), USA.
They are accredited by the National Industrial Safety Council of Nigeria (NISCN), the Institute of Safety Professionals Of Nigeria (ISPON), the Nigeria Red Cross Society, and the World Safety Organization (WSO). For the ISO and IAS accreditation, they are partnering with QRO Certification LLP and TVE International Certification (Pvt) Ltd.
This institute is located in Port Harcourt and some other states in Nigeria. In Port Harcourt, they are located at
17 Trans-Woji Industrial Area,
off YKC Junction, Woji
Port Harcourt, Rivers State.
Phone on: 08055262123; 07067658743

Novelle Center offers training, certification, and consultancy services to individuals and companies. This institute was established in 2011 and its training courses meet professional standards.
They have NEBOSH AND IRCA accreditation and they provide ISO 9001, ISO 14001, and ISO 45001 certified training and consultation.
They are situated in Port Harcourt, Lagos, and Abuja, here is their Port Harcourt Location: Novelle Center, suite 21, Opus plaza, 21 Afam street, Dline Rivers State.
Phone at: 09030589313, 09084766905

According to the Institute of Safety Professionals of Nigeria (ISPON), they claim to be the only organization recognized by the laws of the Federal Republic of Nigeria to regulate the practice of the safety profession.
They offer other offer services that include training and certification. They are located in a couple of states in the country. In Port Harcourt they are located at State Coordinator: Mr. Fasusi Olayinka MISPN
Address: Plot 270 Triana Building,
Opposite Polaris Bank, by Danjuma Drive, Trans Amadi Industrial Layout, Port Harcourt. Rivers State.
Phone: 08110141960, 08138591811
E-mail: [email protected]
NOTE: Our Offices at Stadium Road and Igwuruta, Port Harcourt are currently under suspension.
Direct all correspondences to Trans Amadi office.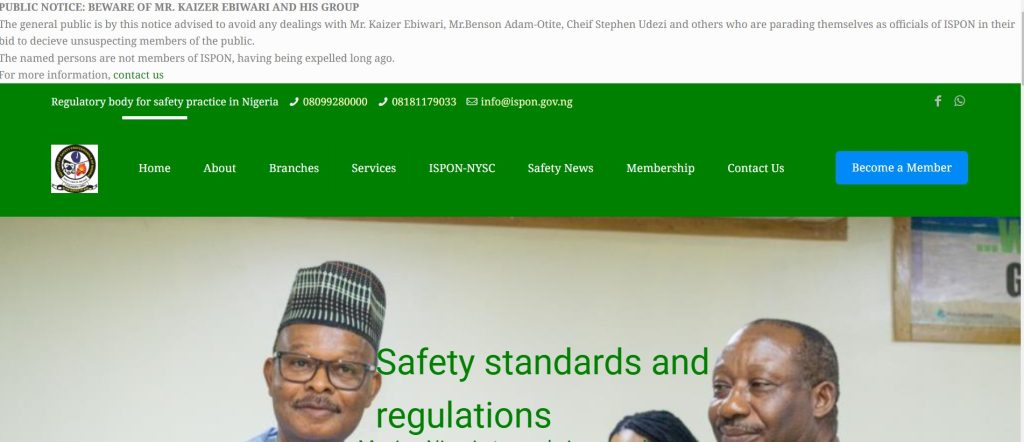 Advantages of HSE training
There are main reasons why you should consider getting HSE training, I have mentioned a few above. Aside it increasing your chances of getting employed, it also protects you from occupational hazards. Working on a construction site may expose you to acute or chronic illness by getting excessively exposed to substances such as organic solvent, asbestos, lead, silica dust, and welding fumes.
These substances can result in workers developing cancer, acute or even chronic illness depending on the illness prognosis. The construction site is one of the numerous work environments with deadly occupational hazards, aside from getting illness, workers are exposed to heavy-duty machines that can lead to accidents and acute injury. Prevention they say is always better than cure, HSE trainings help workers prevent occupational hazard to a great extent.
CONCLUSION
Getting trained on relevant skills puts you ahead of others in a work setting, HSE training enlightens you on how to navigate your work environment and minimize occupational hazards. Work-associated injuries or illnesses are situations we don't see coming as they can happen at any point in time if proper protective measures are not taken. As an employee, it is also your responsibility to take your HSE training seriously and apply what you were taught when necessary. Life comes first before anything, once there is life there is hope, and prevention they say is better than cure.