Reading Time:
4
minutes
Since the late 1980s, Accelerated Christian Education in Nigeria has been of great help in assisting Nigerian parents living in Nigeria to homeschool their children. Over time, the Accelerated Christian Education (ACE) homeschooled assisted children have progressed educationally and also furthered their studies, while some students have gained employment in the workforce.
These ACE homeschooled students were given a strong academic foundation and standardized teachings based on the Word of God. Accelerated Christian education has significantly improved literacy in Nigeria with its phonics-based learning-to-read curriculum. The mastery-based approach to education gives students and learners a strong foundation for lifelong learning. With this educational approach, young people can learn about God's rules, which might help them to regulate the world since it has a Bible-based foundation for learning in every subject. This educational approach prepares students who complete the program to be critical thinkers, problem solvers, voracious learners, and devout followers of Jesus Christ.
In more than 140 nations worldwide, which includes Nigeria, A.C.E. offers a reliable Christian education classroom curriculum. As A.C.E.'s authorized representative in Nigeria, Doulos Education Enterprises assists in offering support services to Christian schools in Nigeria that employ A.C.E.'s curriculum and program. They also control how the school kids access instructional materials.
Their mission is to provide kids, especially those who attend the schools, with an education that teaches them to love God and those around them.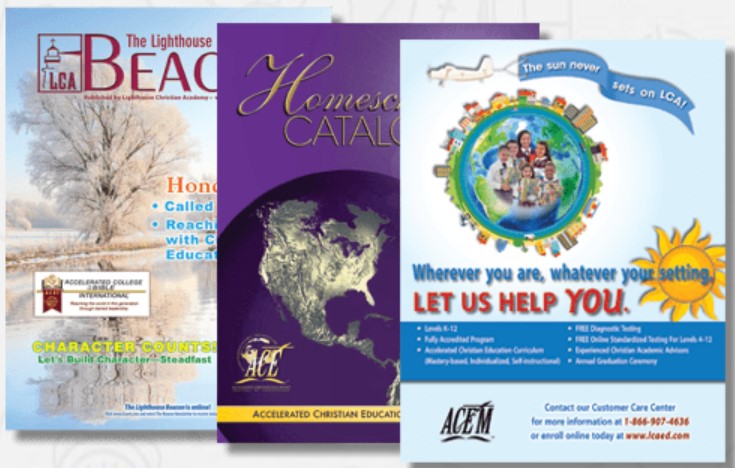 Accelerated Christian education curriculum
The A.C.E. program provides an academic curriculum that focuses heavily on the Bible and incorporates skill development, goal-setting, reading practice, and character development. The basic curriculum and a wide range of electives are included in this comprehensive program, which begins with reading development classes and continues through high school.
Kids can learn independently with the help of the self-instructional PACEs (Packets of Accelerated Christian Education) from A.C.E. There are 12 PACEs for each level in each core subject. These levels do not, however, lock pupils into a certain level. This is how it works, with the 12 PACES, students who learn faster may go more quickly in academic areas where they excel, while those who find the content more difficult and learn slower may need more time to finish it. Each student will learn the content while progressing at their rate.
They use the ACE Connect Diagnostic Test to determine kids' academic needs in each subject if they are new to the A.C.E. program. This diagnostic test identifies areas of academic deficiency and suggests a course of action that meets and pushes each student to succeed at their highest level.
A.C.E. Diagnosis and Prescription
Traditional school systems fall short when they make a failing student repeat a whole grade or promote a student who hasn't mastered the material. Some students lack fundamental language, math, or other academic skills when they graduate high school. The A.C.E. approach eliminates the requirement to repeat a grade or move on to more challenging content without first mastering a subject.
The FREE online ACE Connect Diagnostic Test assesses students according to their learning, there are also paper Diagnostic Test booklets available. After the student has finished testing, learning gaps, and subject concepts the student may have missed are reported. The proper gap PACEs are used to enhance particular deficiencies when testing reveals vulnerable regions. Next stage, after finishing the gap PACEs, the student advances according to his performance. He or she can perform at chronological grade level if he or she excels at all assessment levels.
The four subjects examined in the classroom include:
Math (Levels 1–9)
English (Levels 1–8)
Bible reading, science, social studies, literature, and creative writing reading comprehension (Levels 1–8)
Spelling (Levels 2–9)
Students preparing to enter kindergarten or Level 1 should not take this test. To decide which reading curriculum is best for these pupils, use the A.B.C.s Pretest.
To take the test, click on https://www.acediagnostictest.com/diagnostictest/
Accelerated Christian education convention
Student conventions are an important academic year component for institutions that use the A.C.E. School of Tomorrow curriculum. The possibilities for students to develop their abilities and talents toward loyal service to the Lord at national, regional, and international conventions have a yearly impact on their lives. Kingdom citizens are tested and prepared through the student conventions in the competition and daily fellowship.
The Nigeria Student Convention is the first stop at the All Africa Student Convention and the International Student Convention. We advise everyone to prayerfully evaluate the events they want to compete in as they prepare for the Nigeria Student Convention. Students' performance at student conventions is evaluated against the global standards set by A.C.E.
 Students should keep in mind that this determines whether they succeed or fail. If they work hard to become ready for the student conventions, all students have the chance to succeed. 
They are extending their annual invitation to the students, parents, and schools to check the details on their main website page, including the schedule of events and the Student Preparation Handbook, for information on registering for the Nigeria Student Convention. You can register on https://www.acenigeria.com/nigeria-senior-amp-junior-convention
Graduation and Certification
Students who finish the necessary A.C.E. program courses are eligible for the following diplomas and certifications. These include: 
Primary 6—PACE 1072 in all Core Subjects- (Certificate of Level 6 Completion)
Junior Secondary 3- (Certificate of Basic Education Completion)
S.S. 3- (Certificate of Level 12 Completion)
High School Diploma (S.S. 3) Lighthouse Christian Academy [L.C.A.]
S.S. 3- (International Certificate of Christian Education [ICCE])
To apply for the certificate you require for your students, kindly utilize the Certification Application form supplied below. The National Office must receive this form and the necessary supporting evidence (which may be found on page 3 of the form) at least three months before the certificate is needed.
To obtain the form, click on this link.
https://www.acenigeria.com//media/pageimg/Certification%20Application.pdf
Conclusion
Accelerated Christian Education in Nigeria provides a distinctive fusion of academic brilliance and spiritual direction. It gives pupils a firm foundation in Christian values and beliefs and the information and abilities required for a successful career.
Accelerated Christian Education schools in Nigeria offer their students the chance to get a well-rounded education that strongly emphasizes the growth of virtue, morals, and faith. Every subject in the curriculum incorporates biblical principles and teachings, fostering a learning atmosphere where students can develop their faith while achieving academic distinction.
Furthermore, Nigerian students who graduate from authorized Christian schools are well-equipped to contribute to their communities and the wider world. They are qualified to become leaders who can effect change in the places where they have power because they have a strong moral sense and a desire to serve others.