Reading Time:
4
minutes
A renowned university in Nigeria identified as the European University of Nigeria (EUN) was established by Prince Nicholas Ukachukwu, a former member of the House of Representatives, and got its final accreditation and approval from the National University Commission (NUC) before the close of 2022.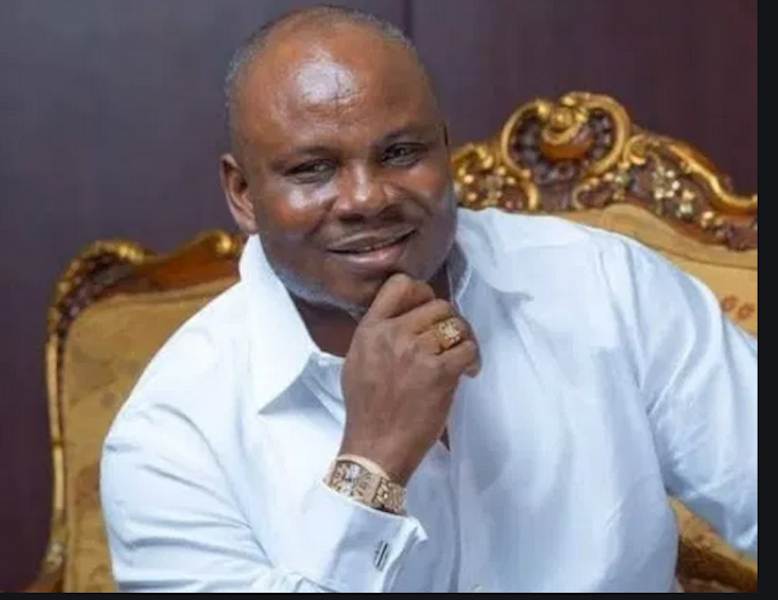 The university seeks high-quality education that meets international standards and equips students with global competitiveness. It does this by offering a broad range of academic programs in various subjects, including business, engineering, social sciences, natural sciences, and humanities
The reputation of the European University of Nigeria is built on its commitment to academic achievement, innovation, and all-around growth. It contributes to the expansion and improvement of the country's educational environment by helping to mold the future leaders and professionals of Nigeria and beyond.
The university prioritizes research and innovation, inspiring faculty and staff to conduct cutting-edge research addressing regional and global issues. It also encourages entrepreneurship and supports start-ups and business endeavors through its entrepreneurship development center.
In addition to providing opportunities for students to participate in extracurricular activities, clubs, and societies, they are dedicated to fostering a multicultural and inclusive learning environment by drawing students from diverse backgrounds both domestically and abroad, fostering cross-cultural understanding and collaboration, and helping students grow in their leadership and interpersonal skills.
Vision and Mission of the Institution
The school's vision is to become a leading, internationally recognized university that produces qualified people who meet the environment's social, economic, and technological needs.
The school's mission is to provide professional training and sound entrepreneurial knowledge to address social, economic, and technological requirements and issues in the context of global needs and sustainable development.
Features of the institution
Here are certain features that make the school so special and unique amongst others. These include:
Class Room
The institution's well-equipped classrooms offer students a relaxing and helpful learning atmosphere. The classrooms are contemporary, roomy, and furnished with the newest audiovisual technology to facilitate efficient teaching and learning.
The interactive classrooms at EUN are built with a student-centered approach to learning that promotes active involvement and engagement. Smaller groups and seminar rooms also enable group work and discussion between students and teachers.
Quality of Education
The faculty of EUN is made up of a group of professionals who are dedicated to providing students with a top-notch education. They embrace a student-centered approach to education, encouraging students to participate actively in their education and highly emphasizing research.
Students get the chance to take part in research projects and exhibit their findings at conferences.
Hostel
The university has contemporary and welcoming hostels where students can stay on campus. They are furnished with modern conveniences like air conditioning, comfy beds, study tables, and wardrobe facilities. They are created to offer students a safe, secure, and pleasant living environment that encourages academic performance and personal development.
The institution offers separate residence halls for men and female students, with single and double occupancy options.
Security
The school strongly focuses on the safety and security of its employees, professors, and students. To guarantee that everyone on campus is safe and secure, the school has a robust security system.
The security crew at EUN is well-trained and on duty constantly to patrol the campus, conduct surveillance, and deal with crises. Modern security tools, like CCTV cameras, metal detectors, and vehicle scanners, are available to the security staff to identify and avoid potential security concerns.
Students and staff can report security issues or incidents by calling a security hotline. To ensure a prompt and efficient reaction in emergencies, EUN also has a thorough emergency response strategy in place.
Courses offered in the institution
Here is a list of courses offered at the University
Accounting
Banking & Finance
Business Administration
Computer Science
Cyber Security
Economics
Entrepreneurship
Hotel & Tourism Management
Information Technology
International Relations
Law
Marketing
Medical Laboratory Science
Nursing
Pharmacy
Physiotherapy
Public Administration
Software Engineering
Tuition Fees
The cost of tuition varies according to the educational level and program of study. For the most up-to-date information on tuition costs, check the university's website or contact the admissions office directly.
However, the school fees paid by varsity students are listed below. It should be noted that these expenses only cover tuition and do not include other costs like the admittance fee, medical fee, SUG, faculty dues, department dues, or other registration fees.
100 level- #3,000,000
200 level – #2.5,000,000
300 level- #2,000,000
400 level-#2,000,000
The University doesn't currently have an active website at the moment. Should that change in the future, we would make the necessary changes.
How to apply for EUN admission
To apply for admission to the European University of Nigeria, follow these steps:
Access the admissions portal on the university's official website to learn more about the application process. www.eun.edu.ng
Learn about the requirements for admission, such as academic credentials, entrance examinations, and any unique requirements for the program you are interested in.
Examine the university's undergraduate and graduate programs and choose the one that best suits your academic and professional objectives.
Complete the online application form with true and comprehensive information on the university's website.
Obtain the required supporting materials, including a personal statement, recommendation letters, identity documents, certificates, and academic transcripts.
Apply online through the portal before the deadline after completing the application form and submitting the necessary papers.
By often monitoring the admissions portal or requesting information from the university's admission office, you can keep track of the progress of your application.
After considering your application, the university will let you know whether you have been accepted. If your application is accepted, you will receive a letter outlining the next procedures to confirm your enrolment.
If you are offered an admission offer, carefully read the directions in the letter, then take the necessary actions to accept the offer, reserve your spot, and finish the registration process by the deadline.
Remember that the application procedure may differ or involve additional prerequisites, so do your research carefully and adhere to any special instructions offered by the European University of Nigeria.
Conclusion
In conclusion, the European University of Nigeria (EUN) provides a potential framework for higher education in Nigeria and also offers students a distinctive educational experience with its dedication to academic achievement, cutting-edge facilities, and a wide selection of programs.
Only candidates who merit admission are chosen for admission through EUN's thorough and stringent admissions process. The university upholds its reputation for creating qualified graduates ready to handle real-world issues by preserving high admissions standards.
The commitment of EUN to establishing a positive learning environment also distinguishes it from other universities. They also provide an environment that values creativity, critical thinking, and research, giving students the tools they need to become future leaders and game changers in their areas.
The university is a great option for people looking to flourish in their careers due to its global perspective, strong industry links, and emphasis on developing practical skills and prospective students might consider attending EUN if they want a comprehensive educational experience.